For


MLD Practitioners with Full Body Training


Exclusive In-Class
Hand-Outs


New Advanced Protocols & Techniques


Length of Class


4 Days
8 Hours per day



CEU Given


32 CEU hours *(Pending)
Advanced Vodder Manual Lymphatic Drainage for Trauma, Surgery, and Pathologies
a 4-day Hands-On Class, May 19-22, 2023 in Concord, CA with ->
NEW ADVANCED Theory and NEW ADVANCED PROTOCOLS

Advanced Class DEBUT PROMO
$300 off now! inal prices below

CLICK HERE TO BUY
the Advanced MLD Complete Training PACKAGE
for $1595! ($1970)
Includes: Online Theory Course & The patented MLD Tool™, a $375 value
Purchased separately these cost $1970+!!!

Click HERE to Enroll
in the hands-on Advanced MLD Class ONLY
if already have the MLD Tool™ and Theory Course $1395! ($1595)
does NOT include the Online Theory Course or MLD Tool
Class does include Advanced MLD Theory & Protocols Exclusive Handouts

May 19-22, 2023 in Concord, CA
BRING-A-FRIEND: and each get ANOTHER $200 off
(stacks with other promos,
contact us for code by CLICKING here)
RETURNING STUDENTS GET $200 DISCOUNT for MLD Tool & Online Course Credit.
Repeating students can attend for HALF OFF! Improve your technique and understanding now!
Sign up with a friend: you EACH get $200 off (stack-able for returning student and other discounts) (contact us for code or click the button above)
Note: + Payment plans are available on the checkout page for this class bundle and returning students. Bundle includes discounts for required Online Theory Course and MLD Tool; if you recently purchased either separately, contact us for a coupon code to credit those purchases.


the first option on the menu below called "PAY ONCE" is for the CLASS ONLY,
and DOES NOT include the package items

Advanced Vodder Manual Lymphatic Drainage for Trauma, Surgery, and Pathologies

This exciting fully in-person hands-on class includes advanced theory and practical training including advanced Vodder MLD techniques for joints, skin, and head congestion due to trauma, illness or surgery, including elective surgeries. Additional physiology will be taught pertaining to the drainage of the brain, the intestines and other organs, as well as the filtration of fluid at the capillary. Advanced protocols for elective surgeries for the face, arms, abdomen, chest and buttocks will be given.

This class is for the therapist interested in deepening knowledge and skill of Manual Lymph Drainage using the Vodder MLD Technique. The class starts with a quick review of the fundamental MLD strokes for the full body. After completion of this class the therapist can address many inflammatory conditions such as: acne, rosacea, muscle strains and sprains, sports injuries, post operative inflammation, stress, and elective surgery hematomas and scars.

Prerequisites for Advanced MLD:
Has completed The Fundamentals of Manual Lymph Drainage Theory Online Course and taken the Body Workers Fundamentals of MLD Practice (Hands-On) Class for the Full Body
OR
Has successfully completed a 32-40 hour in-person hands-on MLD course for the full body from another NCBTMB Approved Provider.

Gay Lee Gulbrandson, CLT-LANA is a consummate professional therapist and previously taught MLD for Dr. Vodder School International.

(NCBTMB Approved Provider #451083-09. CE hours pending approval for this course)
Purchase the Advanced MLD Bundle for discounted price of $1295 !!!!
May 19-22, 2023 in Concord, CA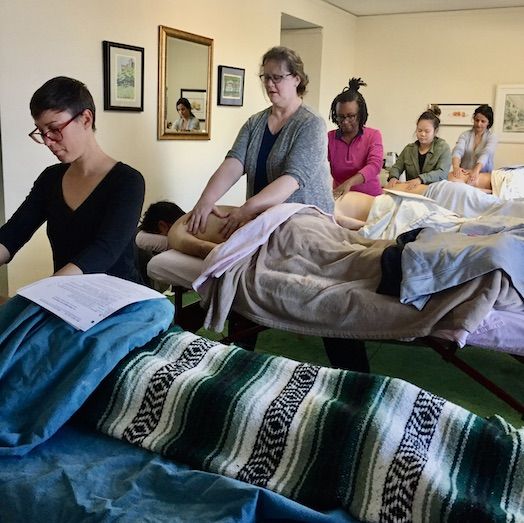 What's included?
Online Theory Course with 100 page Workbook

The MLD Tool™
Includes: all hardware to connect your iOS device*

32 hour Certification*
*CURRENTLY PENDING
NCBTMB APPROVAL

#

Gay Lee Gulbrandson
CLT-LANA, NCTMB, AMTA, NLN

Your instructor
Gay Lee Gulbrandson is a Dr. Vodder School certified MLD Therapist, was a certified Dr. Vodder School Instructor from 2002-2019, a Lymphedema Association of North America (LANA) Certified Lymphedema Therapist. She has taught MLD to body workers and estheticians since 2002, continuing in 2022 with her own School of MLD(tm). She is a continuing education Approved Provider through NCBTMB. Gay Lee's teaching inspires health care professionals to address physical symptoms of over 60 pathologies and to treat pre and post surgical patients whose swelling related conditions are often inadequately managed. She also maintains a thriving private practice in MLD and Combined Decongestive Therapy (CDT) in Berkeley, California.
Created with