what is it?


A sensor placed on the skin that will measure the pressure applied and read it out on our custom app for you to see.


Tools Required


Any iOS 8.0 or later compatible device from Apple:
iPad (any except original), iPhone 4s or later, iPod touch 5th gen. or later


adapters included


it will work with your headphone jack, or either of the two included Apple adapters (Lightning & USB-C)

The MLD Tool™

Pressure Sense Training Anytime, Anywhere™
Learn the correct pressure of MLD at home with this revolutionary bio-feedback practice tool!

RMS = Resistive Measurement System and is Patent # US 9,167,242 B

How much does my pressure really matter when I'm applying MLD to the skin of my client?
––Let's put it this way: the more correct the pressure, the greater the result!

Manual Lymph Drainage (MLD) and other light pressure techniques may be rapidly learned using this patented and affordable new tool. The iOS app yields practitioner-biofeedback showing exactly how much pressure is being exerted on
the skin to improve therapist competence in this easy to learn hard to master technique.

The amount of pressure is sometimes described as the pressure applied while stroking a newborn's head.
The pressure on the skin should be like the weight of a nickel...

How about we take the guess work out of this technique of applying light pressure to the skin? (a.k.a. MLD!)

Well, guess what! We have!

The angular pressure required to properly perform MLD for maximum effect, while not causing harm, is 30-35 mm Hg. (Hg = Mercury)... But what does that mean you ask?

The RMS MLD Tool removes all the challenge of a technically abstract understanding of simply applying pressure to the skin with your own hands! With this revolutionary device, you can see for yourself in real time how much pressure you are applying as you perform the proper strokes of MLD, on your own skin, or another's –– practice anytime!

"Manual lymphatic drainage (MLD) is a gentle massage technique that is recognized as a key component of decongestive therapy. MLD aims to encourage fluid away from congested areas by increasing activity of normal lymphatics and bypassing ineffective or obliterated lymph vessels. MLD remains a specialist skill that needs regular practice in order to maintain competence. Deep, heavy-handed massage . . . may damage tissues and ex- acerbate edema by increasing capillary filtration." Best Practice For The Management Of Lymphedema (UK) ISBN 0-9547669-4-6

"The most superficial lymphatic vessels are very small and very fragile. These are easily damaged and are certainly broken when a pressure of more than 60 mm Hg is applied. " How Can Lymphedema be Treated? Judith R. Casley-Smith & J.R. Casley-Smith 2001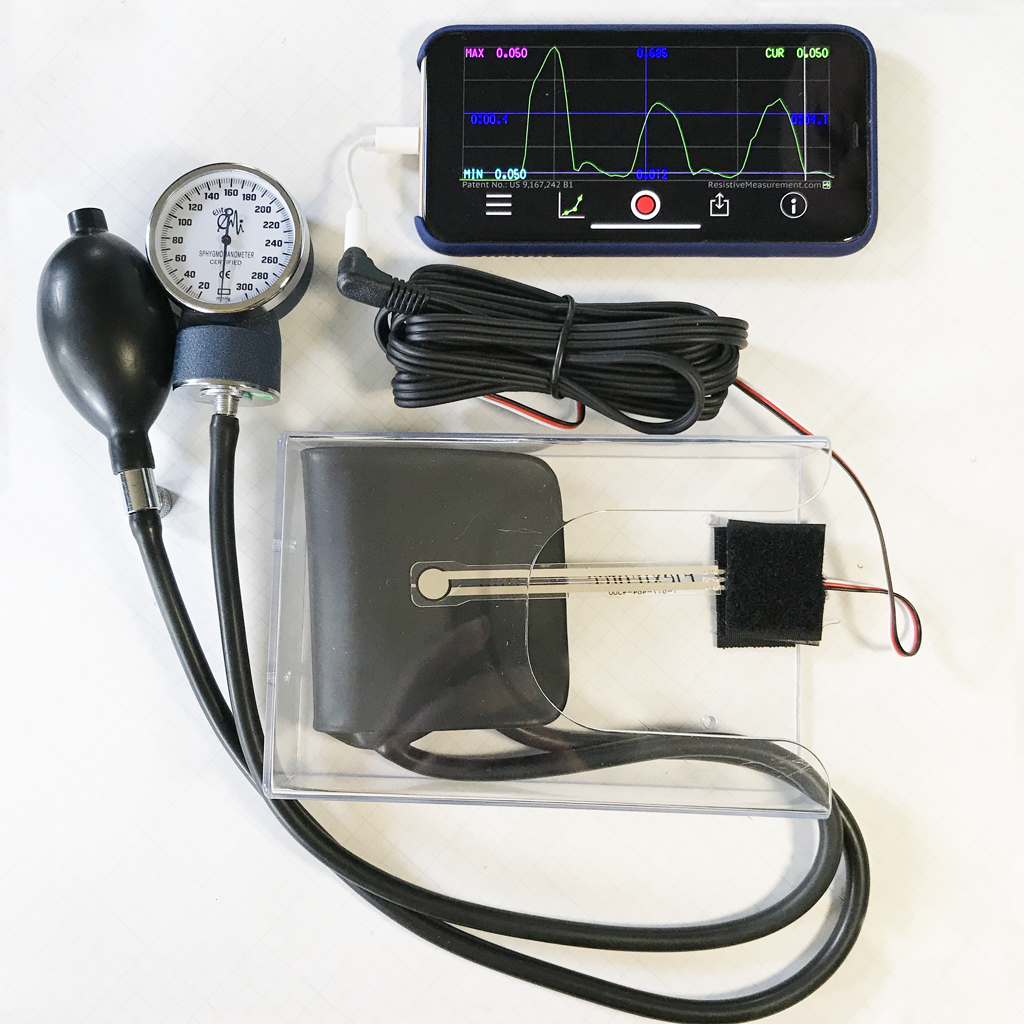 What's included?
RMS Quickstart Guide

Calibration Rig
with instructions on the back!

EVA Case
iOS Adapter(s)
Pressure Sensor
Connection Cable
Velcro for arm/leg

On-Screen Tutorial Walkthrough
(Video Tutorials Forthcoming)

Online Manual

Check these out for up to 50% off!

wormtaker = save $150 by registering 60+ days before class

morehealing = save $150 by registering 60+ days before class

Check these out for up to 50% off!

Early Bird = save $300 by registering 60+ days before class
Repeating Same Class = save 50% by registering for your previously taken class

Bring a Friend = save $150 by registering for the same class with one or more friends

You and each friend will each receive a maximum of $150 off total as part of this promotion. This may still be combined with other promotions.
Click here for more info at the FAQ
Continuing Student = save $200 by registering for a class not yet taken

This applies as long as you've completed the Online Science & Theory Course AND still have your MLD Tool™
** Maximum total discount for stacked promotions is $650; no promotions stack with repeating a class at 50% off.

Early Bird + Bring a Friend = save $450 each by registering 60+ days before class with friends!
Taking another class with a friend = save $350 for taking a new class after your first hands-on class, and a friend new to the School is coming their first class with us

Register for a new class early, and a friend enrolls early with a Package = save $650!

You will receive $650 off another hands-on class you haven't taken yet, by you and a friend new to the School registering more than 60 days in advance of the first class day. The friend will receive $450 off with the "earlyfriend" code.
Click here for more info at the FAQ
Created with